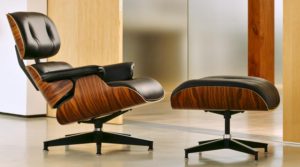 Charles and Ray Eames; two American architects who brought a revolution in furniture industry. They induced molded plywood in comfortable chairs and ottoman designed for a high-end market. Early in their careers together, Charles and Ray identified the need for affordable, yet high-quality furniture for the average consumer — furniture that could serve a variety of uses. The Eames Lounge Chair has combined ultimate comfort with both materials and workmanship of the highest quality and had served the purpose well.
Their designs were Lean and modern. Sleek, sophisticated and simple. Yet Charles and Ray Eames created more than a "look" with their bent plywood chairs or molded fiberglass seating. They had ideas about making living comfortable. Eames Soft Pad Executive Chair is a luxurious chair that bears the unmistakable Eames stamp. These chairs are equipped with an innovative suspension that creates a firm, flexible "sitting pocket".
Their chairs were designed for Herman Miller in four materials — molded plywood, fiberglass-reinforced plastic, bent and welded wire mesh, and cast aluminum. Commonly known as the Eiffel chair; the Eames's designed DSR dining chair in 1948 as the first industrially manufactured fiberglass chair.
The conceptual backbone of this diverse work was the search for seat and back forms that comfortably support the human body, using three dimensionally shaped surfaces or flexible materials instead of cushioned upholstery. The world popular Eames designs still beholds the mark of class in luxury furniture. Coming out of an age where furniture was heavy and complex; made from multiple materials and then covered in upholstery, the Eames design was a refreshing new way of looking at furniture and furniture design.
The Eameses embraced the era's visionary concept of modern design as an agent of social change, elevating it to a national agenda. Their evolution from furniture designers to cultural ambassadors demonstrated their boundless talents.