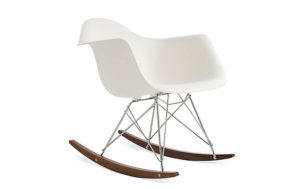 The Eames Rocking Chair (RAR rocker) is a gorgeous and enduring icon of modern furniture design. It is a must have in any mid century modern interior. Originally this Eames Rocking chair was designed using fiberglass but nowadays polypropylene is used, which gives more comfort and strength. The chair has chrome plated legs and stained maple ski feet to give maximum rockability.
This, the classic Eames rocker is undoubtedly the most inspirational and stylish homes of the rich and famous. Whether your living space is ultra modern or classically traditional you will find this little gem fits in perfectly and adds a refined touch to any room.
Eames Rocking Chair (RAR Rocker) and Eames Arm Chair (DAR) belongs to a group of shell chairs and armchairs with a variety of bases which Charles & Ray Eames entered into the international competition for 'low-cost furniture' at the New York MOMA.
These chairs mark their own style with their durable performance yet elegant looks.