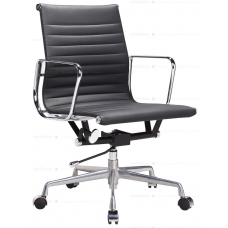 Charles and Ray Eames are among the most important American designers. They are best known for their groundbreaking contributions to furniture designing. They combined the comfort and style in their designs, which led them among the top rated designers in all fields i.e. from the relaxing loungers to the elegant office chairs.
Charles and Ray Eames had their own signature in offices as well. The Eames office Chair from their Eames Aluminum group marks its own significance. The graceful silhouette of the Herman Miller Eames Office Chair sits equally well in retro interiors, elegant lobbies or hip young offices. Wonderfully comfortable, the chairs became the basis for several Eames designs, including the Soft Pad chairs.
The list of Eames office chairs goes very long including low back and high back soft padded office chairs, high backed ribbed office chairs, low and high back mesh office chairs, eiffel and rar rocking chairs. With the seat-back suspensions these chairs became a major technical achievement. Charles and Ray loved their work, which was a combination of art and science, design and architecture, style and function. "The details are not details," said Charles. "They make the product." and this concept of designing any furniture was their key to the legendry success.