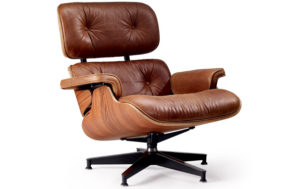 Eames Lounge chair is a sign of luxury and style with exceptional quality of comfort. It lives in museums and art institutes, in stylish interiors everywhere and as a tattoo on a devotee's arm. A subject of classical documentaries and books, Eames lounge chair has played its vital role among the top ranked furniture icons.
Billy Wilder, the director of "Some Like It Hot," "Irma La Douce," and "Sunset Blvd." was the first person who got the honor of having Eames Lounge Chair as a gift from the marvelous designers. Since then, this highly collectible and iconic furniture set continues to be valued for its now 'classic' look, exemplifying the standard for modern furniture design of the 20th century, blending comfort, elegance and luxury. It was the zenith of Charles and Ray Eames' efforts to create a club chair using the molded plywood technology that they pioneered in the '40s.
Rosewood veneer with black upholstery was what made the original Eames lounge chair a classic in 1956. With the passage of time the environmental concerns of using Brazilian rosewood lead the path to walnut and cherry veneers.