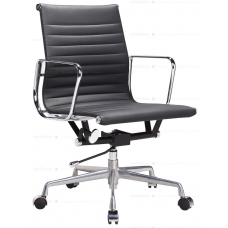 The Eames Aluminum Group series was designed in 1958. A private residence project of J. Irwin Miller, founder of Cummins Engines led the way through. An outdoor chair was what they desired and asked Charles and Ray Eames to design that for them. The Eames's constructed their chairs with cast aluminum and a seat frame meant to support a stretched synthetic mesh.
Since the start of development this chair became a staple as a mid-century modern classic. The aluminum Group Style Management office chair is set on a five-point base; these chairs sit on tubular steel columns and revolve for easy entry and exit.

With the graceful silhouette, innovative comfort features, durable materials and timeless design Eames Aluminum Group Management office chairs stands best for most offices. The Executive Chair offers an extra 9 ¼ inches of back height which gives it a sense of more aura and style with comfort. With an aluminum frame and base, the chair is strong, yet lightweight and easy to move.
The original mesh meant for outdoor use was discontinued shortly after its introduction. In 1969, the Eames's extended the original design by adding plush, individually upholstered cushions. They named these the Soft Pad chairs. In 2001, Herman Miller introduced a new mesh material for the Eames Aluminum Group chairs, called Cygnus, notable for its aeration and translucent qualities.